Kathmandu Animal Treatment Centre
Together, let us create a city where cruelty is eliminated
If you want to make a difference here is a project where your contribution is guaranteed to benefit.
When we were in Kathmandu ( Nepal ) in February we could clearly see a marked change in the street life. Compared to the last time we were in Kathmandu the number of street dogs was significantly reduced and the dogs that we did see were in a much better condition. The people's behaviour towards the dogs had also changed. From being a "thing" one could kick around the dogs had now become suitable for a "pillow" when lying and enjoying the sunshine.
Who can resist eyes like these? The puppy is heavily hit by malnutrition and severe skin diseases
We didn't give these lovely changes much thought until we visited the KAT centre. It is precisely the result of the magnificent work done by the KAT that the street dogs in large parts of Kathmandu have a more tolerable life. We have seen the difference and we realise the importance of giving KAT the means to pursue its programmes in the remaining parts of the city. It is a vast task but with just a few means it can be done.
KAT is a non-profit charity organisation founded in 2003 by the Englishman Jam Salter. The centre in Kathmandu is run on a daily basis by locals and foreign volunteers.
The goal of KAT is to diminish the number of street dogs with 50% and to improve the lives of the dogs. To reach this goal KAT has started some effective and humane programmes that entail neutralisation, rabies inoculation and treatment of injuries and diseases. In addition KAT does a great job of "educating" the population and changing their perception of the street dogs.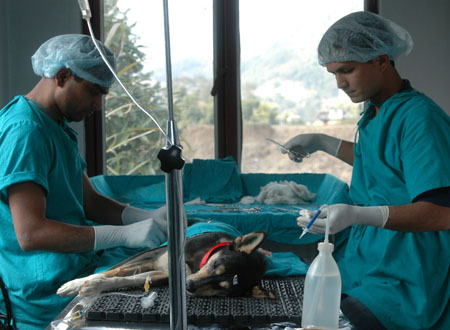 The vets at KAT sterilize a street dog

Since it began, KAT has neutered and vaccinated over 4,800 dogs. On a breeding cycle of four to seven puppies twice a year, this means the charity has prevented a further 45,000 puppies being born. KAT's aim is to treat 70% of the dogs in one area.

KAT is run by donations particularly from private persons, but also big organisations like the WSPA support the project. Also supported by The Tibetan Terrier World Congress 2007

.

Nepal's dogs – and the big hope for them in the future
Here you can read about our experiences during our visit to the KAT centre February 19 2007.

Picture Gallery
Here you can see pictures from our visit to the KAT centre.

KAT Centre´s Website
See much more about KAT by visiting their website. See how you donate to the good projekt, and how the donation is usefull.